Hiroyuki Kai

Ph.D.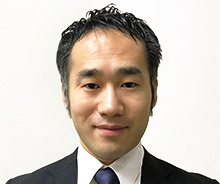 Job
Assistant Professor
Group
Materials Physics Group
Laboratory
Y.P. Chen-Kumatani Group
Address
Room 5A, AIMR Main Building, Katahira Campus
(2-1-1, Katahira, Aoba-ku ,Sendai 980-8577)
Tel
+81-22-217-6160
E-Mail
kai@tohoku.ac.jp
Related Site
Research Interests
Wearable materials and biosensors
Functional polymer materials
Materials for microfluidics such as polymer monoliths and space-filling open microfluidic films.
Main Publication List
"Space-filling open microfluidics designed to collect water droplets."
Hiroyuki Kai*, Ryoma Toyosato, Matsuhiko Nishizawa*
RSC Advances, 2018, 8, 15985-15990.
"Porous polymer microneedles with interconnecting microchannels for rapid fluid transport."
Liming Liu, Hiroyuki Kai*, Kuniaki Nagamine, Yudai Ogawa, Matsuhiko Nishizawa*
RSC Advances, 2016, 6, 48630-48635.
"Intrinsically Stretchable Electrochromic Display by a Composite Film of Poly(3,4­ethylenedioxythiophene) and Polyurethane."
Hiroyuki Kai*, Wataru Suda, Yudai Ogawa, Kuniaki Nagamine, Matsuhiko Nishizawa*
ACS Applied Materials & Interfaces, 2017, 9, 19513.
"Organic electrochromic timer for enzymatic skin patches."
Hiroyuki Kai, Wataru Suda, Shotaro Yoshida, Matsuhiko Nishizawa*
Biosensors and Bioelectronics, 2018, in press.
"Accelerated wound healing on skin by electrical stimulation with a bioelectric plaster."
Hiroyuki Kai, Takeshi Yamauchi, Yudai Ogawa, Ayaka Tsubota, et al.
Advanced Healthcare Materials, 2017, 6, 1700465.
Award
Tanaka Kikinzoku Precious Metals Research Grants, Young Researcher Award (2019)
"Development of porous microneedle electrodes and their application to precision drug delivery"
CHEMINAS 37, Research Award
"Mechanism for droplet collection by open microfluidic channels with hierarchically branching structures" (2018)
The Kao Science Encouragement Award, The Kao Foundation for Arts and Sciences (2018)
"Development of perspiration collecting films by hierarchical hydrophilic patterning"
Related Information