Yoshikazu Ito

Ph.D.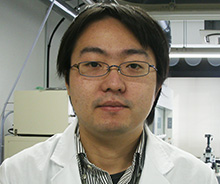 Job
Associate Professor
Group
Bulk Metallic Glasses Group
Laboratory
Ito Laboratory
Address
room 120, AIMR Annex Building, Katahira Campus
(2-1-1, Katahira, Aoba-ku ,Sendai 980-8577)
Tel
+81-22-217-5926
E-Mail
ito@wpi-aimr.tohoku.ac.jp
Related Site
Research Interests
Magnetic and transport properties of alloy nanoparticle (2006-)
Alloy nanoparticle catalyst (2010-)
Synthesis and physical properties of shape-controlled nanomaterials (2011-)
Nitrogen-doped graphene and graphite (2012)
Synthesis and physical properties of nanoporous nanomaterials (2013-)
Main Publication List
Yoshikazu Ito, Akira Miyazaki, Kazuyuki Takai, Vajiravelu Sivamurugan, Takashi Maeno, Takeshi Kadono, Masaaki Kitano, Yoshihiro Ogawa, Naotake Nakamura, Michikazu Hara, Suresh Valiyaveettil and Toshiaki Enoki "Magnetic Sponge Prepared with an Alkanedithiol-bridged Network of Nanomagnets" J. Am. Chem. Soc., 2011, 133, 11470–11473.
Yoshikazu Ito, Christos Christodoulou, Marco Vittorio Nardi, Norbert Koch, Hermann Sachdev and Klaus Muellen, "Chemical Vapor Deposition of N‑Doped Graphene and Carbon Films: The Role of Precursors and Gas Phase", ACS Nano, 2014, 8, 3337–3346.
Yoshikazu Ito, Yoichi Tanabe, H.-J. Qiu, Katsuaki Sugawara, Satoshi Heguri, Ngoc Han Tu, Khuong Kim Huynh, Takeshi Fujita, Takashi Takahashi, Katsumi Tanigaki1, Mingwei Chen, "High Quality Three-Dimensional Nanoporous Graphene", Angew. Chem. Int. Ed. 2014, >126, 4822–4826. (Hot Paper)
Yoshikazu Ito, Hidetoshi Ohta, Yoichi M. A. Yamada, Toshiaki Enoki, Yasuhiro Uozumi, "Transfer Hydrogenation of Alkenes with a Ni/Ru/Pt/Au Heteroquatermetallic Nanoparticle Catalyst: Sequential Cooperation of Multiple Nano-Metal Species", Chem. Commun., 2014, 50, 12123-12126.
Yoshikazu Ito, Cong Weitao, Takeshi Fujita, Zheng Tang, Mingwei Chen, High Catalytic Activity of Nitrogen and Sulfur Co-Doped Nanoporous Graphene in the Hydrogen Evolution Reaction, Angew. Chem. Int. Ed. 2015, 54, 2131-2136.
Award
CSJ Student Presentation Award 2010 from Chemical Society of Japan
JSMolSci Best Presentation Awards 2014
CSJ Presentation Award 2015 from The Chemical Society of Japan