Hiroyuki Isobe

Principal Investigator, Ph.D.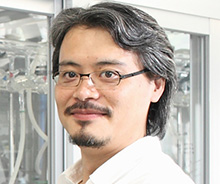 Job
Principal Investigator, AIMR
Professor, The University of Tokyo
Group
Soft Materials Group
Laboratory
H.Isobe Laboratory
Address
Room 304, AIMR Main Building, Katahira Campus
(2-1-1, Katahira, Aoba-ku, Sendai 980-8577)
Tel
022-217-6160
E-Mail
isobe@m.tohoku.ac.jp
Related Site
Research Interests
Synthesis and Functions of Tubular Nanocarbon Molecules
Synthesis and Functions of Planar Nanocarbon Molecules
Synthesis and Functions of π-Stacking Molecules
Main Publication List
Bottom-up synthesis of finite models of helical (n,m)-single-wall carbon nanotubes, Hitosugi, S.; Nakanishi, W.; Yamasaki, T.; Isobe, H. Nat. Commun. 2011, 2 (10), doi: 10.1038/ncomms1505 (5 pages).
[n]Cyclo-2,7-naphthylenes: Synthesis and isolation of macrocyclic aromatic hydrocarbons having bipolar carrier transport ability, Nakanishi, W.; Yoshioka, T.; Taka, H.; Xue, J. Y.; Kita, H. Angew. Chem. Int. Ed. 2011, 50 (23), 5323-5326.
Triazole-linked DNA as a primer surrogate in the synthesis of first-strand cDNA, Fujino, T.; Yasumoto, K.; Yamazaki, N.; Hasome, A.; Sogawa, K.; Isobe, H. Chem. Asian J. 2011, 7 (11), 2956-2960.
Energetics of water permeation through fullerene membrane, Isobe, H.; Homma, T.; Nakamura, E. Proc. Natl. Acad. Sci., U.S.A. 2007, 104 (38), 14895-14898.
Imaging of single organic molecules in motion, Koshino, M.; Tanaka, T.; Solin, N.; Suenaga, K.; Isobe, H.; Nakamura, E. Science, 2007, 316 (5826), 853.
Award
2009: Nozoe Memorial Award for Young Organic Chemists
2008: The Young Scientists' Prize
(The Commendation for Science and Technology by the Minister of Education, Culture, Sports, Science and Technology)
2005: The 1st Osawa Award of Fullerene Nanotube Research Society
2004: The 53th Chemical Society of Japan Award for Young Chemists
2000: The 1st IUPAC Prize for Young Chemists