Hiroshi Idzuchi

Ph.D.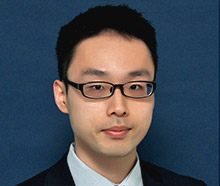 Job
Assistant Professor
Group
Materials Physics Group
Laboratory
Y. P. Chen Laboratory
Address
Room 5A, AIMR Main Building, Katahira Campus
(2-1-1, Katahira, Aoba-ku ,Sendai 980-8577)
Tel
+81-22-217-6160
E-Mail
hiroshi.idzuchi.b7@tohoku.ac.jp
Related Site
Research Interests
Spintronics
two-dimensional material
nano-scaled device
quantum computer
Main Publication List
Increased Curie temperature and enhanced perpendicular magneto anisotropy of Cr2Ge2Te6/NiO heterostructure
H. Idzuchi, A. E. Llacsahuanga Allcca, X. C. Pan, K. Tanigaki and Y. P. Chen
Applied Physics Letters 115, 232403 (2019).
Revisiting the measurement of the spin relaxation time in graphene-based devices
H. Idzuchi, A. Fert, and Y. Otani
Physical Review B 91, 241407(R) (2015).
Spin transport in non-magnetic nano-structures induced by non-local spin injection
H. Idzuchi, Y. Fukuma, and Y. Otani
Physica E: Low-dimensional Systems and Nanostructures 68, 239 (2015).
Giant Enhancement of Spin Accumulation and Long-Distance Spin Precession in Metallic Lateral Spin Valves
Y. Fukuma, L. Wang, H. Idzuchi, S. Takahashi, S. Maekawa and Y. Otani.
Nature Materials 10, 527 (2011).