Yasuaki Hiraoka

Principal Investigator Ph.D.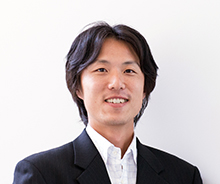 Job
Principal Investigator, AIMR
Professor
Group
Mathematics Unit
Laboratory
Y. Hiraoka Laboratory
Address
Room 4B,AIMR Main Building,Katahira Campus
(2-1-1,Katahira,Aoba-ku,Sendai,980-8577)
Tel
+81-22-217-6175
E-Mail
hiraoka@tohoku.ac.jp
Related Site
Research Interests
Topological Data Analysis on Materials Science
Persistent Homology
Random Topology
Main Publication List
Mohammad Saadatfar, Hiroshi Takeuchi, Nicolas Francois, Vanessa Robins, and Yasuaki Hiraoka. Pore configuration landscape of granular crystallisation. Nature Communications. 8:15082 (2017), DOI: 10.1038/ncomms15082.
Y. Hiraoka, T. Nakamura, A. Hirata, E. G. Escolar, K. Matsue, and Y. Nishiura. Hierarchical structures of amorphous solids characterized by persistent homology. Proceedings of the National Academy of Sciences of the United States of America 113 (2016), 7035–7040.
E. Escolar and Y. Hiraoka. Persistence Modules on Commutative Ladders of Finite Type. Discrete & Computational Geometry, 55 (2016), 100-157
T. Nakamura, Y. Hiraoka, A. Hirata, E. G. Escolar, and Y. Nishiura. Persistent Homology and Many-Body Atomic Structure for Medium-Range Order in the Glass. Nanotechnology 26 (2015) 304001.
Award
NISTEP Award (The Researchers with Nice Step)
The 1st Hiroshi Fujiwara Mathematical Science Award
(2012)
Best Paper Award in Japan Society for Industrial and Applied Mathematics (2004)