Mingwei Chen

Principal Investigator, Ph.D.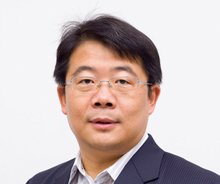 Job
Professor
Group
Bulk Metallic Glasses Group
Laboratory
Chen-Watanabe Laboratory
Address
Office 3-4, AIMR Laboratory Building, Katahira Campus
(2-1-1, Katahira, Aoba-ku, Sendai, 980-8577)
Tel
+81-22-217-5992
E-Mail
mwchen@jhu.edu
mwchen@wpi-aimr.tohoku.ac.jp
Related Site
Research Interests
Mechanical behavior and atomic structures of bulk metallic glasses
Dynamic properties of ultrahigh strength materials
Development and characterization of nanoporous metals
Main Publication List
A. Hirata, L. J. Kang, T. Fujita, B. Klumov, K. Matsue, M. Kotani, A. R. Yavari, M. W. Chen, Geometric frustration of icosahedron in metallic glasses, Science, 341, 376-379 (2013).
T. Fujita, P. Guan, K. McKenna, X. Lang, A. Hirata, L. Zhang, T. Tokunaga, S. Arai, Y. Yamamoto, N. Tanaka, Y. Ishikawa, N. Asao, Y. Yamamoto, J. Erlebacher, M. W. Chen Atomic origins of the high catalytic activity of nanoporous gold, Nature Materials 11 (9), 775-780 (2012).
A. Hirata, P. F. Guan, T. Fujita, Y. Hirotsu, A. Inoue, A. R. Yavari, T. Sakurai, and M. W. Chen, Direct observation of local atomic order in a metallic glass, Nature Materials 10 (2011) 28.
X. Y. Lang, A. Hirata, T. Fujita, and M. W. Chen, Nanoporous metal/oxide hybrid electrodes for electrochemical supercapacitors, Nature Nanotechnology, 6 (2011) 232-236.
A. Hirata, T. Fujita, Y. R.Wen, J. H. Schneibel, C. T. Liu and M.W. Chen, Atomic structure of nanoclusters in oxide-dispersion-strengthened steels, Nature Mater. 10, 922 (2011).
Award
FY 2016 Prizes for Science and Technology (Research Category), MEXT, 2016
Thomson Reuters Highly Cited Researchers, 2014
Materials Today Conference Award, 2014
The Senior Scientist Award, ISMANAM , 2013
Outstanding Oversea Chinese Scientists, China Academy of Sciences, 2010
Related Information