AIMR signed the agreement for JRC with Univ. of Chicago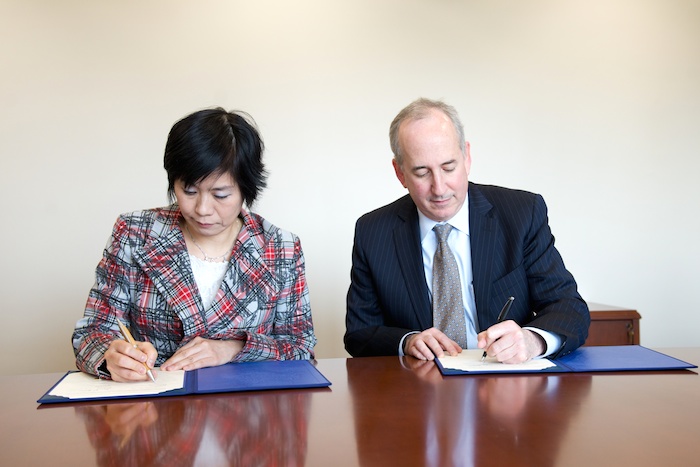 The AIMR and The University of Chicago signed the agreement to establish the UChicago/AIMR Joint Research Center. The signing ceremony was held at the University of Chicago on 16th April, 2014.
The agreement, which was signed by Provost of University of Chicago Eric Isaac and Director of AIMR Motoko Kotani, is for establishment the joint laboratory at both institutes to conduct joint research projects. After the ceremony, they discussed how to manage the joint lab with Prof. David Awschalom (the Institute for Molecular Engineering, Univ. of Chicago) and Prof. Hideo Ohno, and agreed to hold the joint workshop in Sendai this September. This workshop will be held on 18th and 19th September at the AIMR main building.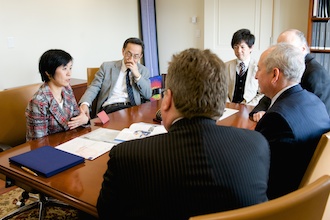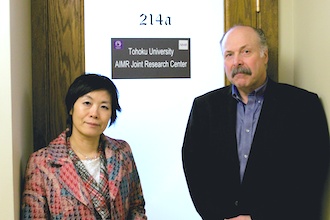 Related Information
Contact
International Academic / Research Cooperation Section
| | |
| --- | --- |
| Address : | 2-1-1, Katahira, Aoba-ku, Sendai, 980-8577 |
| TEL : | +81-22-217-5971 / 5972 |
| FAX : | +81-22-217-5129 |
| E-MAIL : | wpi-int@wpi-aimr.tohoku.ac.jp |