The Agreement on Academic Exchange was signed between Tohoku University and Technische Universität Chemnitz, Germany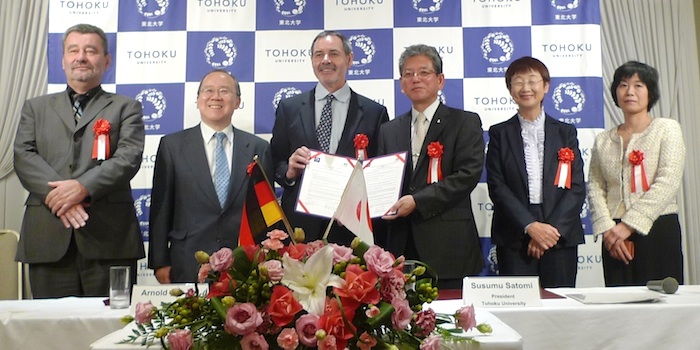 Tohoku University President Susumu Satomi and Technische Universität Chemnitz Rector Arnold van Zyl signed the Agreement on Academic Exchange on October 31, 2013, in the presence of His Excellency Mr. Takeshi Nakane, Ambassador Extraordinary and Plenipotentiary to the Federal Republic of Germany from Japan, and the Honorable Ms. Emiko Okuyama, Mayor, City of Sendai.
The collaborative partnership between Tohoku University and Technische Universität Chemnitz was formed through two exceptional researchers, Prof. Thomas Gessner and Prof. Masayoshi Esashi. Prof. Gessner is not only the Director of the Center for Microtechnologies of Technische Universität Chemnitz, but also the Director of Fraunhofer Institute for Electronic Nano Systems (ENAS). He was invited as Principal Investigator for MEMS laboratory upon the establishment of the Tohoku University World Premier International Research Center Initiative – Advanced Institute for Materials Research (WPI-AIMR) in October 2007. Prof. Esashi is also Principal Investigator and Group leader of the Device/Systems Group in the WPI-AIMR and the Director of Micro System Integration Center μSIC at Tohoku University. He is well-known as a MEMS pioneer and was awarded the honorary doctor's degree from Technische Universität Chemnitz in October 6, 2008, for his engagement and his contributions to the development of MEMS.
This Agreement also includes a MOU on Student Exchange which expects the promotion of interchange not only in research but also in education. This tie will also expand further advanced collaboration between Japan and Germany.
Technische Universität Chemnitz, Germany
The Technische Universität Chemnitz has been established as a Royal Industrial School in 1836. With now more than 10.000 students and more than 2.000 staff members Technische Universität Chemnitz today is a prospering, future-oriented and modern technical university with high scientific skills and great innovation potential.
The profile of Technische Universität Chemnitz, based on interdisciplinarity as well as on intensive networking on the national and international level, cross-links technical and natural sciences with social sciences, humanities and economics to generate competitive and excellent research as well as to create attractive degree programs. The focus areas are Energy-efficient Production Processes, Human Factors in Technologies as well as Smart Systems and Materials.
For more information please visit the web-page:http://www.tu-chemnitz.de/index.html.en
Contact
Advanced Institute for Materials Research (AIMR), Tohoku University, PR & Outreach office
| | |
| --- | --- |
| TEL : | 022-217-6146 |
| E-MAIL : | outreach@wpi-aimr.tohoku.ac.jp |