RESEARCH
Mechanical behavior and atomic structures of bulk metallic glasses
The most notable property of bulk metallic glasses (BMGs) is their ultrahigh strength and hardness that cannot be achieved in their crystalline counterparts. Nevertheless, BMGs generally suffer from low ductility at room temperature because shear bands, the sole carriers of plastic deformation, initiate strain softening and result in failure of BMGs with limited plasticity. It has been widely recognized that mechanical properties of BMGs virtually depends on the nucleation and propagation of shear bands. However, the underlying mechanism on the shear localization remains unclear. With the support of this project, we have extensively investigated the micromechanisms of mechanical behavior of BMGS from atomic and sub-nanometer scales.
TEM characterization of self-locked shear band in ductile BMGs
More recently, extraordinary plasticity and work hardening were observed in Cu- and Pt-based monolithic BMGs with intact strength. Although a number of explanations have been suggested, including high Poisson's ratio and structure heterogeneity, the underlying physical mechanism, in particular microscopic explanation, remains mystery. In this study, we employed high-resolution electron microscope to characterize the atomic structure of shear bands in these ductile BMGs. Our observations reveal novel self-locked effect in ductile bulk metallic glasses. Strain softening caused by localized shearing can be effectively prevented by nanoparticles that are in situ produced by plastic flow within the shear bands, leading to large plasticity and strain hardening. These atomic-scale observations not only well explain the extraordinary plasticity that was recently observed in this material, but reveal a novel deformation mechanism that can effectively improve the ductility of monolithic metallic glasses.
Experimental measurements of STZ volumes of BMGs
The spatially and temporally heterogeneous plastic deformation in metallic glasses below their glass transition temperatures has been closely tailored with the dynamics of shear transformation zones (STZs). However, a quantitative experimental measurement of STZ sizes is still missing. In this study, we developed an experimental methodology to characterize the STZ volumes of metallic glasses. Our results show that the measured STZ volumes are in good conformity with those predicted by theoretical analysis and molecular dynamics simulations and are closely correlated to the ductility of BMGs and the size of medium-range orderings (MROs).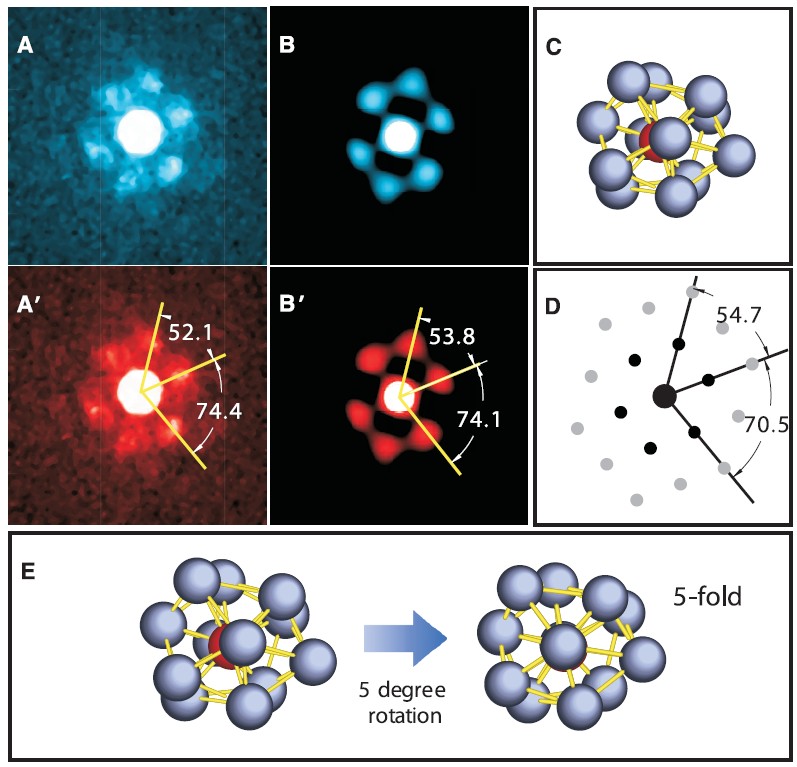 Science, 341, 376-379 (2013)
Dynamic properties of ultrahigh strength materials
In recent years, we employed transmission electron microscopy and Raman spectroscopy to investigate the high-pressure deformation and damage of hard materials including boron carbide, alumina silicon carbide, silicon, and nanocrystalline metals. Our preliminary results suggest that nonlinear deformation of these high strength materials are associated with nano-scale phase transitions and atomic scale crystal defects, depending on the crystal structure, chemical bonds and stress states.
Shock induced nano-scaled amorphization in boron carbide
Shock induced nano-scaled amorphization was observed by our HREM observations. This discovery is extremely noteworthy for the following reasons: i) this is the first observation of nanoscale amorphization of a high performance structural ceramic with super-hardness, ii) the observed amorphization provides the key to explain the well documented, but previously not understood, poor ballistic performance of boron carbide at high impact pressures (>20 GPa), iii) our observations unambiguously identifies the high pressure damage mechanism in B4C that will allow for more robust models and may be generically applicable to other ceramic materials in similar environments and will lead the way toward processing improved materials, and iv) the shock and pressure induced phase transformation in the super-hard materials with strong covalent bonding is also a very interesting topic for the synthesizing new phases and substantially altering mechanical and physical properties of the materials, which could not be achieved by conventional means. (M. W. Chen, et al., Science 299, 1563(2003)) Dynamic plasticity and failure of purity alumina under shock loading
In this study, we show high-resolution electron microscopy of high purity alumina, softly recovered from shock-loading experiments. The change of deformation behavior from dislocation activities in the vicinity of grain boundaries to deformation twinning has been observed as the impact pressures increase from below, to above HEL. The evolution of deformation modes leads to the conversion of material failure from an intergranular mode to transgranular cleavage, in which twinning interfaces serve as the preferred cleavage planes (M. W. Chen, et al., Nature Materials, 2006).
Ultra-large Room-temperature Compressive Plasticity of nanocrystalline nickel
We reported ultra-large room-temperature plasticity of nanocrystalline Ni subjected to uniaxial compression. Up to 200% true plastic strain is achieved with a steady flow stress of ~2 GPa at strain rates ranging from 10-3 to 10-1 s-1. The low temperature, high strain rate and high flow stress demonstrate that the observed ultra-large plasticity in nanocrystalline Ni is intrinsically dissimilar to that in traditional superplastic materials deformed at high temperatures. Microstructural observations reveal significant nanograin growth accompanying with the ultra-large plastic deformation, indicating the ultra-large plasticity in nanocrystalline Ni at room temperature is mainly performed by a grain-boundary-mediated process that is driven by high stresses, rather than thermal diffusion.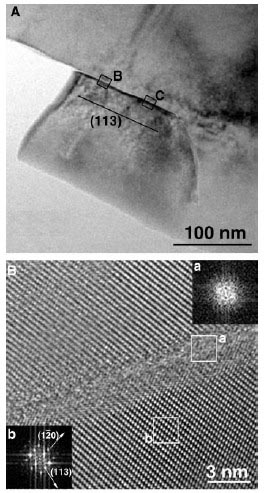 Science 299, 1563 (2003).
Development and characterization of nanoporous metals
The overall motivation of this research is to extend our success in synthesis of nanoporous noble metals and composites along with development of a new fabrication technique of nanoporous non-noble transition metals by using chemical and electrochemical approaches. The produced nanoporous metals will possess three-dimensional bicontinuous structure with a tunable pore size from a few nanometers to hundreds of nanometers. This new type of nanoporous materials holds unique promises for applications in bio-MEMS, nano-devices, and nano-mass transportation systems.
Surface Raman scattering enhancement of nanoporous gold
The surface enhanced Raman scattering (SERS) of nanoporous gold with nanopore sizes ranging from 5 to 700 nm. Our comprehensive investigations prove that the strongest SERS enhancement of nanoporous gold takes place in the samples with an ultra-fine nanopore size of 5-10 nm. Both the enhancement factor and detection limit of the ultra-fine nanoporous substrate is one to two orders of magnitude higher than those of coarsened nonporous gold with smooth surfaces. Moreover, careful microstructure characterization reveals that the anomalous SERS enhancement of the annealed nanoporous gold arises from rough surfaces with characteristic surface irregularities.
Uncovering three-dimensional morphology of nanoporous gold
Quantitative characterization of nanostructured materials in three dimensions is essential to optimize their fabrication and to model their physical and chemical performances. A number of characterization techniques, such as electron tomography, X-ray computerized tomography, confocal laser scanning microscopy and X-ray diffraction microscopy, have been developed to reveal the three-dimensional (3D) microstructure of various materials. Amongst these techniques, electron tomography holds unique promise for uncovering complex nanostructures because of its excellent spatial resolution down to sub-nanometer-scale. Here we report transmission electron tomography of nanoporous gold fabricated by chemically dealloying Au35Ag65 films. A number of algorithms were employed to quantitatively characterize the complex three-dimensional nanoporous structure. It was found that gold ligaments and nanopore channels are topologically and morphologically equivalent, i.e. they are inverses of each other in three-dimensional space. Statistical analysis reveals that this bicontinuous nanostructured material is actually quasi-periodic and has, on average, a near zero surface curvature. These quantitative measurements will help in understanding the structural stability of nanoporous gold and in modeling its physical and chemical performances.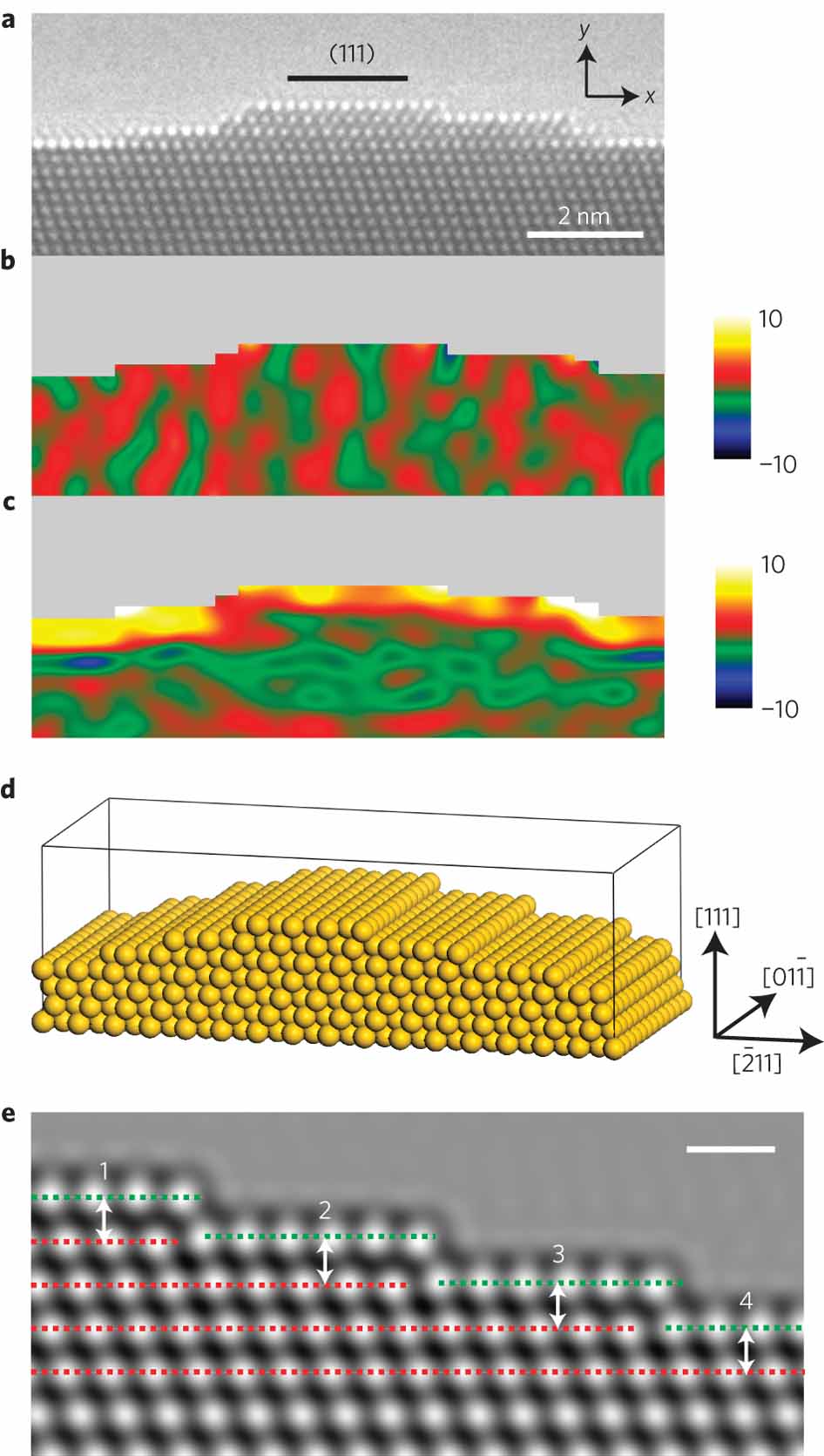 Nature Materials 11, 775-780 (2012).
Functional applications of 3D nanoporous graphene
We have successfully developed a nanoporous metal-based CVD technique for the growth of high-quality 3D nanoporous graphene with tunable pore sizes as well as coherent quantum electronic properties in the interconnected 3D structure. The novel properties of large specific surface areas, high porosity, high electron mobility and efficient mass transport render the nanoporous graphene a sought-after material for applications in transistors, electrocatalysis and electrochemical energy storage.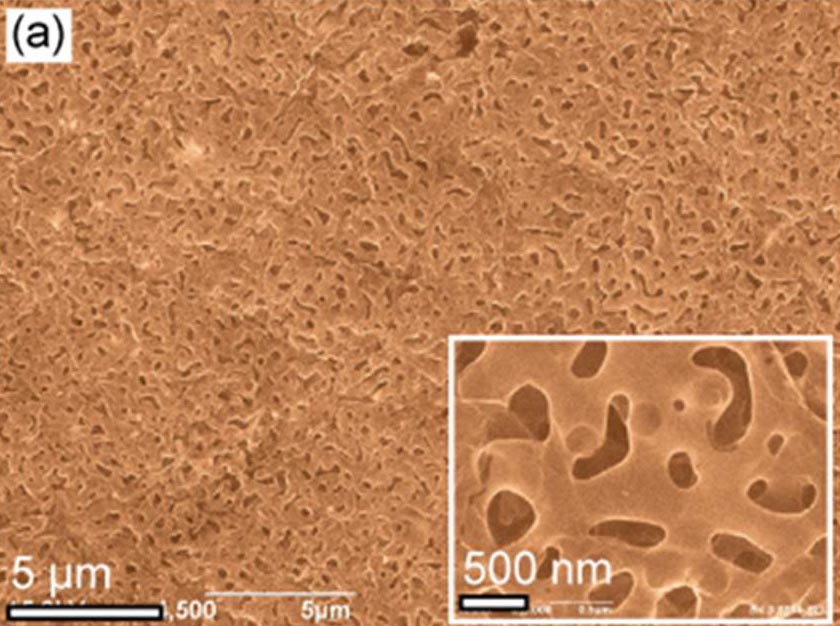 Angew. Chem. Int. Ed. 53, 4822 (2014)