Voice of AIMR Researchers
「Experience the same research environment as in US」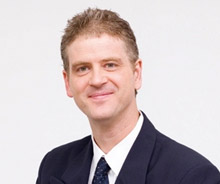 Winfried Teizer
AIMR Junior Principal Investigator
and Texas A&M University Principal Investigator
Fulfilling support
I feel that AIMR is a new and unique opportunity in a very serious effort by Japanese environment to open itself up to for international researchers. The life of international researchers in this institute is much easier than in many other places in Japan, because we have staff who are fully bilingual, both Japanese and English. We can easily communicate about any requirements that researchers have with staff. The other reason is that the organization's structure of the institute also involves some of the typical western processes that make it easier for foreign researchers to integrate.
One aspect which I personally like very much about this institute is that, once a week, people from many different areas of research from different departments on campus come together and spend time talking about research or anything beyond research, over a cup of tea and some snacks. You can meet people that you typically don't meet in your regular affairs, your regular weekly work, because they are so far removed from your research. Therefore they allow you to come up with new ideas, new points of view and ultimately create multidisciplinary area. This is a very interesting approach to form large multidisciplinary groups.
Active international exchange
Europe and United States have a very strong exchange, and many people move forth and back very frequently. That allows both Europe and US to benefit from the exchange. But Japan has not had such a strong exchange historically, and has in some areas been isolated from the international arena. I think that the WPI program is a real chance to change such a situation and allow Japan to participate in international brain circulation fully.
about Sendai city
I like Sendai very much. There are many reasons for that. Sendai is a quite unique city in Japan. It's big enough that you can do anything you want, to have some great shopping, night life, good transportation connections which is important for the kind of work that we all do. At the same time, Sendai is small enough that if you jump on a local train for half an hour, you can do some spectacular hikes, you can go to the mountains, visit many hot springs……
You have the benefit of the large cosmopolitan city and the proximity of nature, so that is really a very, very pleasant way on living for me.
「Surprisingly-high motivation for interdisciplinary research」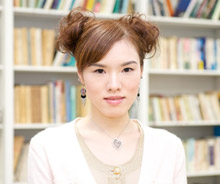 Kiori Obuse
Assistant Professor (Mathematics Unit)
Impression of AIMR
There are a great number of rich phenomena that can be investigated in materials science, whilst mathematics normally deals only with highly idealised problems. The fusion of these two different disciplines, as practiced at AIMR, may seem highly unrealistic. However, remarkable progress is being made in this new field at AIMR, where materials scientists and mathematicians are working together, sharing techniques and ideas on methodology, to make a breakthrough in the research. I believe that we can not only achieve innovative developments in materials science but also establish a new filed in mathematics. It is a pleasure to be involved in such an exciting project.
Research support
The staff of AIMR is all committed to the successful operation of research projects within the institution, and to providing assistance to the researchers in various practical aspects of their work. One of the things I found extremely helpful at AIMR is the presence of administrative staff members who are also qualified researchers with a PhD. As they are versed in both administrative and research-related issues, they help us communicate our needs and problems to the administration office, and maintain a great research environment. They also have an extensive knowledge of the workings of the institution, including the details of the research projects we are undertaking.
about Sendai city
Sendai is a charming small city, with everything we need, practical or spiritual. Provisions and services we need in our daily lives are easily accessible. The historic buildings dotted around the city are full of dignity, and traditional crafts bring the special sense of peace to our mind. The fresh greenery of Aobayama in early summer is absolutely beautiful, and walking through the solemn paths surrounded by Japanese cedars makes a perfect escape from the daily routine. Also, people are kind, and are always there to help us if we are in trouble. Sendai provides me with all I need as a researcher, and a human being.